Snug Cove House Society was formed in 1995 to provide the seniors of Bowen Island with supportive housing and complementary services. Snug House Society is a registered non-profit and charitable society governed by a committed volunteer Board of Directors representing a cross-section of perspectives and skills.
Our mission is to support Bowen Island senior citizens to age in place and to continue to enjoy their community by facilitating services such as supportive housing. We are dedicated to supporting independent seniors to stay well.
Bowen Island homes are primarily single-family dwellings, often on difficult terrain. Recognizing the need for safe and supportive housing options for seniors, the people of Bowen Island raised funds and purchased 1.2 acres next to Bowen's only seniors' housing cooperative, Bowen Court, on Miller Road.
We asked our Board members to say why they care about Snug Cove House:

Graham Ritchie is the Chair of the Snug Cove House Society Board, and previously the Abbeyfield Board, for more than 20 years. In addition to his gifts as a director of several plays on Bowen Island, he currently runs a successful renovation and maintenance company on Bowen Island.
"We must end the annual disposal of our elders. We must end the individual tragedies and the routine unravelling of the whole cloth of our community. We can do it, and it's the least we can do."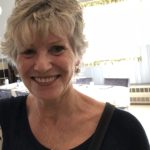 Andy Powell-Williams has been an educator with the Vancouver School Board for 35 years. During this time, she held a number of roles, most recently as a District Principal working with planners, architects, and engineers to seismically upgrade schools and build new schools.  She has been involved in many school communities and recognizes the huge value that a sense of community brings to individuals and families. Andy serves as our vice-chair.
"I think it is essential for optimal mental, social and physical health that we remain in our community as we age. Snug Cove House will provide that opportunity."
Sheilagh Sparks has recently joined the Board as Secretary.  Her photo and bio will appear here shortly.

Martine Sampath has a background in Biochemistry/ Molecular Biology and has worked for over 22 years in research laboratories in Montreal and Ottawa. Martine, her husband Chris Passier, and their sons moved to North Vancouver in 2005 and to Bowen Island in 2008. Over the years, Martine has been actively volunteering in her sons' schools in Ottawa, North Vancouver, Beijing, and California. Martine also volunteered at an orphanage in Beijing. Martine serves as the Snug Cove House treasurer.
"I'm looking forward to working with the other volunteers of the Snug Cove House and getting to know many more people in this small caring community of Bowen Island."

Pernille Nielsen, a licensed Notary Public who has lived on Bowen Island since 1989 and served this community as a notary since 2002, is our treasurer. Why she cares about Snug Cove House?
"I believe that it is important for us all to have the opportunity to enjoy our senior years on Bowen Island … to stay in our community, to continue to contribute to it and to enjoy the support and caring that comes from living in this wonderful place."

Cindy Macleod has lived on Bowen Island since 1995. She is a retired RN whose 30-year career focused on seniors and resources for them. Her most recent position was the Team Leader for the Geriatric Outreach Team, which provided functional and cognitive home assessments for frail seniors. Cindy's knowledge, passion, and commitment to seniors are a valuable asset to our Board.

Holly Mackintosh has resided on the beautiful east side of Bowen Island since 2015 and commutes during the week to White Rock, where she has spent the past 21 years managing a smaller, highly sought-after independent seniors' residence. Holly has extensive knowledge of managing all the operations of independent retirement living, and the ability to pursue her passion of bringing joy and fulfillment into the lives of seniors in a variety of ways. Holly is very enthusiastic to help Snug Cove House establish a retirement community unique to Bowen Island living - a residence that meets the needs of seniors seeking opportunities to stay on Bowen in their later years e. When not working with seniors or planning some event for seniors, Holly loves to spend time in her garden, and enjoy the natural beauty of Bowen.
"Far too often seniors delay the decision to seek or accept support due to fear of change, finances, or their perceived loss of independence. The delay is usually detrimental. Snug Cove House would provide the seniors of Bowen Island the opportunity to access supportive living options without having to leave the sanctuary of the island and the support of their family and friends. In my experience, connection and support from their community is essential for physical and mental well being."

Lorraine Ashdown  has lived on Bowen Island for 20 years. She is currently the Minister at Bowen Island United Church but has also worked as an educator, photographer, and journalist on the island and elsewhere. Lorraine is part of a Community Response Network, keeping an eye on vulnerable seniors who may risk suffering from neglect. Lorraine is a member of the Bowen Island Community Choir board and serves on several committees in relation to her work as a Minister within the Pacific Mountain Region of the United Church of Canada. Along with her friend Susan Munro, Lorraine plays guitar and sings with the Chillbilliesone of her heart's greatest joys.
"I have watched many elders become more and more vulnerable and then sadly, there is no choice for them other than to leave the island. We do not want to lose the energy of our elders nor their presence in our community. Snug Cove House is meant to be a place where safety, community, contribution, and connection are intertwined. Our island's elders desperately need this dwelling place."