Snug Cove House will be a supportive residence for islanders who want to stay on Bowen Island, remain involved in the community, connected to family and friends, and be able to access assistance if and when needed, thereby extending their independence.
Snug Cove House is an initiative of the Snug Cove House Society, a non-profit charity dedicated to the well-being of Bowen seniors. Now our plans are very close to being realised!
The 33,500 SF Snug Cove House seniors' residence is planned, the Miller Road building site is largely ready for construction, and all services are connected. Securing financing is the next phase to bring Snug Cove House to completion.
As of March 2023, we have received a major portion of the funding needed, but with a condition —we must quickly find the rest of the money for the $17,600,000 cost of construction.
It's a large sum: $2,100,000. Don't be put off by the big numbers though—anything you can contribute will help to persuade other funding agencies that the community is behind the project.
Your contribution is as a pledge, redeemable, with a tax receipt, only when we have enough for construction. Simply send an email  to info@snugcovehouse.com, or use the contact form on this website, with something like: "I pledge $______ towards the construction of Snug Cove House."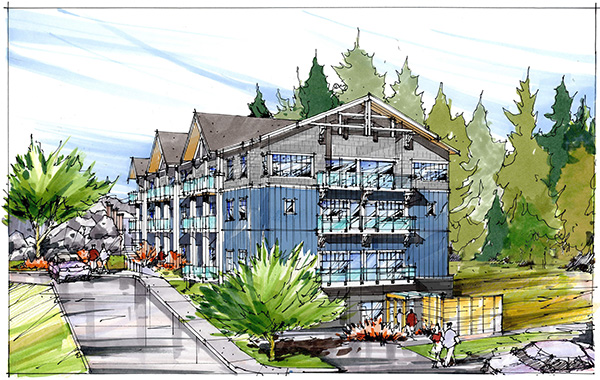 We expect that the residence will open its doors 18 months after construction begins, welcoming individuals and couples to 24 independent rental suites and spacious social and dining facilities. We're hoping for a grand opening in 2025.
For more information or to place your name, or the name of a relative, on our Waiting List, please  Contact Us.