Snug Cove House is the dream of a dedicated group of Bowen Islanders who have worked for more than 20 years to develop a sustainable response to the need for supportive housing for Bowen Seniors. This dream will be financed in part by the sale of some of the original Snug Cove House land. If you are interested in purchasing one of these affordable building lots close to the heart of Snug Cove, please see Land Sale. For more information on Snug Cove House itself, read on.
While these dreams are still in the formation phase and subject to change, we plan that the house will provide 1 and 2 bedroom suites for seniors who wish to live in community, with some support services offered. The House may be staffed with a House Manager or Caretaker who will live onsite. One full meal, and light snacks we hope will be provided in the communal dining room. The staff onsite would provide minimal oversight but not medical duties to the residents.
The main floor of the house will include not only 2-bedroom and 1-bedroom suites, but a communal gathering place of a combination dining and living room, as well as, perhaps a lounge/library; the second floor might include 1- and 2-bedroom suites, most with balconies, the ground level may contain 1- and 2-bedroom suites along with storage and mechanical rooms.
We hope that each suite will be a self-contained unit, with a modest kitchen, full bathroom (which might be reworked for accessibility), and separate one or two bedrooms with closets. Depending on funding constraints, the suites might include in suite laundry facilities. As well, there will be a full kitchen on the main floor, which residents or their guests and families might use, depending on the schedule of usage in the house.
Overall, our hope is to create a sense of supportive community for seniors who want a closer sense of involvement with the island, and particularly Snug Cove, and who are still able to manage fairly independently.
Snug Cove House is located within walking or scooter distance of the amenities of Snug Cove: the pharmacy, the post office, the library, grocery stores, and perhaps in the future the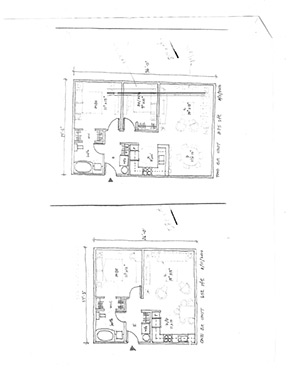 Medical Clinic and Community Centre. The residence would be adjacent to Bowen Court where many seniors live independently in community. The house is on the bus route to the village, and very close to both the Ambulance Station and the RCMP headquarters for the island. There'll be a pedestrian crossing across Miller Road, which has one of the few sidewalks on the island and has a 30 kilometre an hour speed limit, which will make travel down to the village a quick and safe journey for Snug Cove House residents.
Rents for the house are intended to meet the tests of affordability for Bowen Island, though the exact level of the rents has not yet been determined. For more information, please Contact Us.