Seniors' Services
The Board of Directors of Snug Cove House Society is committed to providing important services to seniors on Bowen, even before the construction of Snug Cove House.
Seniors may not eat well because they are unable or find it difficult to shop for and cook nutritious meals. Snug Cove House society aims to assist seniors in finding alternatives to preparing their own meals.
BETTER MEALS
To help seniors maintain a well-balanced diet, the Board has introduced a programme of highly nutritious meals delivered to their doors. Delicious meals are delivered weekly by wonderful Bowen volunteers. The meals enable the elderly and infirm to maintain a well-balanced diet at a very reasonable price. This service also supports Bowen Islanders who, for whatever reason, are unable to prepare their own meals (even for only a short time).
Please contact SUE RITCHIE at 604 947–0225 or email at sueritchie@telus.net  or BUD LONG (who both receives your orders and delivers them); 604 947–0948 or email harlelong@icloud.com )
Snug Cove House Society volunteers cooperate with several other island organizations, including the Caring Circle, the Royal Canadian Legion, Seniors Keeping Young (SKY), and the Little Red Church (Bowen Island United Church) to provide nourishing soup and bread, for a very affordable price, every second Tuesday, at the Legion.
FOR SENIORS NEW TO BOWEN ISLAND
Probably the best place to start to discover the amenities and contacts you might need on Bowen Island is to visit The Caring Circle, located right beside the Library at 432 Cardena Road, (604) 947-9100. The staff and volunteers can offer you information on medical services, volunteer drivers' programs, and so on.
You might also find the links below useful.
General Information and Contacts About Life on Bowen Island
Arts Council: www.biac.ca
– includes a calendar of many local events, including gallery openings, concerts, festivals, etc.
Bank – First Credit Union: www.firstcu.ca
BC Ferries: www.bcferries.com
Community School (community learning) www.sd45.ca/bowen
General information on life and facilities on Bowen: www.bowen-island-bc.com
Golf Club: www.bowengolf.com
Historians: www.bowenhistory.ca
Bowen Island Municipality: www.bimbc.ca
Nature Club: www.bowennatureclub.blogspot.com
Newspaper: www.bowenislandundercurrent.com
Public Library: www.bowenlibrary.ca
Recreation Programs: http://www.bimbc.ca/community_recreation
Seniors Keeping Young: offers weekly exercise, speakers, socializing – drop in at Bowen Court
Water Taxi – Cormorant Marine: www.cormorantwatertaxi.com
Yacht Club: www.biyc.bc.ca
Links to Useful Information
B.C. Seniors Advocate: https://www.seniorsadvocatebc.ca/
BC Housing: www.bchousing.org
Canada Mortgage & Housing Corporation Report on Seniors' Housing: http://www.cmhc-schl.gc.ca/en/hoficlincl/homain/foan/index.cfm
Report on Seniors by Canada's Chief Public Health Officer: http://www.phac-aspc.gc.ca/cphorsphc-respcacsp/index-eng.php
Senate Report on Seniors: http://www.parl.gc.ca/40/2/parlbus/commbus/senate/com-e/agei-e/rep-e/AgingFinalReport-e.pdf
U.N. World Health Organisation Age-Friendly Reports: http://www.who.int/ageing/age_friendly_cities/en/index.html
Affordable Seniors' Housing Advocacy
The Board and volunteers of Snug Cove House society also keep the issue of affordable and supportive seniors' housing and services in front of the community throughout the year. Some highlights include:
A barbecue in the early summer at the Marina close to the ferry dock.
Often, a float in the BowFest Parade (Snug Cove House won First Place in the 2014 parade!).
A dramatic reading of Charles Dickens' A CHRISTMAS CAROL in Collins Hall at Christmas.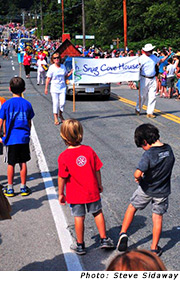 The Society is very grateful for the support of the Bowen Island Municipality and many community organizations, including the Royal Canadian Legion, the Knick Knack Nook, First Credit Union, Smooth Stones Foundation, the Bowen Community Foundation, and others, who help us keep moving forward on our dream.
//