Imagine
enjoying the lush natural beauty and lively community spirit of Bowen Island from a home literally steps away from all the amenities of Snug Cove – shops, restaurants, medical care, the pharmacy, activities, and the ferry! That dream can now be a reality – with the development of The Village by the Cove. This 12 lot village of single-family and duplex homes is now available to buyers wishing for the convenience of proximity to the Cove and the low maintenance aspect of small lots.
The Village by the Cove – is it for you?
Are you interested in:
A low-maintenance property with your own little patch of green?
Walking to all amenities?
Island activities close to home?
Surrounded by accessible park trails?
Being part of a friendly, warm neighbourhood?
Proximity to Snug Cove House residence?
Downsizing to a smaller home?
If so, here is what you may want to know:
The Village by the Cove: Vital Statistics
Located at 1080 Miller Road
Maximum home size 1500 sq feet
Mix of single family and duplex lots
Information for Interested Buyers:
Only three lots left! Contact Frazer Elliott at frazer@bowenhomes.ca or 604 910 3401 for more information.
Follow Snug Cove House Bowen on Facebook
Contact us through our contact page
Below is architect Don Nicolson's rendering of the aerial view of the Village by the Cove site.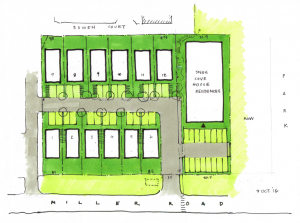 Here is the site plan in more detail.